Podcast List

Enter the Podcast Control page by clicking on
the download symbol.

Notes

On the Podcast Control page you have the choice of playing the selected podcast at once, using the supplied player on the web-page, or of downloading the selected podcast as a MP3 file.
On the Podcast Control page there is a short description and descriptive tags for each Podcast. with relevant tags.
On this page there is supporting material and references for certain podcasts.
Click for Podcast 20
Broadcast 20:
Broadcast Thursday 10th March 2011
Repeated Sunday 14 March 2011
Israel Apartheid Week -- an oxymoron spouted by the naive innocent and the lying activist, sponsored by some of the world's nastiest human rights abusers -- is discussed.

A musical interlude featured Israel's latest entry in the Eurovision context.
Click for Podcast 19
Broadcast 29:
On Lion FM Thursday 3rd March 2011
Repeated Sunday 6th March 2011
Click for Podcast 18


Muslim Brotherhood symbol.
Logo at bottom translates as "Be prepared" a reference to a Koranic verse that talks of preparing to fight the enemies of Allah. Above this logo, the crossed swords sybolise traditional Islam and the objective of bloody Jihad, inspired by the pictured and labelled Koran.

Broadcast 18:
This is the first broadcast of the World and Us for 2011. Points discussed include:

Wiki leaks on NZ motives for claiming Israeli passport forgers were members of Mossad
Palestinian papers on Wiki leaks on stance of Abbas in discussions with Israel.
Interpretation -- Wiki pro-peace stance by Palestinian delegates in discussions = taqiyyah
Egyptian events compared with events when Khomeini came to power
Morry stresses close comparision Egypt now -- Iran then
History of Muslim Brotherhood.
Islamisation in Egypt -- Female genital mutilation statistics.
Muslim Brotherhood members released from jails in Egypt.
Statements by the guy envusaged as interim leader before total Muslim Brotherhood takeover.
Total irony -- food from Gaza is being smuggled through tunnels into Egypt. So much for the alleged goals of BDS.
Singing at breaks from the marvellous group that Morry first heard on the Golan during his IDF service.

Click for Podcast 17

This -- the last episode of The World and Us for 2010 ends on a light note. Morry and Gabby look forward to the start of broadcasting once in 2011, when Lion FM will be in more capacious premises, boasting two complete studios.
Broadcast 17:
On Lion FM Thursday 16th December 2010 at 6pm
Click for Podcast 16

Broadcast 16:
On Lion FM Thursday 9th December 2010
Repeated Sunday 12th December 2010
Click for Podcast 15
Broadcast 15:
On Lion FM Thursday 2nd December 2010
Repeated Sunday 5th December 2010
Click for Podcast 14

Broadcast 14:
On Lion FM Thursday 25th November 2010
Repeated Sunday 28th November 2010
Broadcast 14:
Morry and Gabby discuss the world-wide response to the decree of a group of Israeli rabbis that renting or selling houses in Israel to non-Jews is forbidden. Within Israel, prominent leaders, including Prime Minister Netianyahu and President Peres have loudly condemned the ruling. In Australia the Zionist Federation have added to the condemnation. World-wide many rabbis have condemned the ruling as contrtary to halakah. Elsewise, the issue is widely reported. But meanwhile the Palestine Authority has made it a capital crime to sell any land or residential appartment to a Jew. This barbaric legislation has not even been mentioned in the Age or the SMH. Nor is reported by such Israel bashers that the PA has named squares streets and sports centres after kindergarten murderers, suicide bombers and others guilty of the most heinous crimes within Israel.
Click for Podcast 14
Broadcast 14:
On Lion FM Thursday 25th November 2010
Repeated Sunday 28th November 2010
Click for Podcast 13
This is the complete podcast of the broadcast of Thursday 13th November, and includes a listeners competition, seeking your answer to the question:
When did the name Palestine first appear ? To enter, Email your solution to the presenters at morryngabATgmailDOTcom ASAP to be eligible for a pair of movie tickets, with the fame of having your solution reproduced here.


Broadcast 13:
The major portion of this broadcast deals involves an analysis of various aspects of faulty reporting within Australian media, including the meritorious disservice to truth rendered by the Melbourne Age reporter, Paul McGeogh, who is a strong candidate for Honest Reporting Dishonest Reporting of the Year Award for 2010
For variety, musical interludes are of classic Yiddish songs.
The last part of this podcast deals with the history of the infamous al-Qudwa al-Hussein family to which Yassar Arafat belonged.

Click for Podcast 12
Gal Lusky

Broadcast 12:
This session is a comprehensive interview with Gal Lusky the young founder of Israel Flying Aid. Israeli Flying Aid (IFA) is a not-fo-profit, non governmental aid organization which provides life saving aid to people affected by natural and manmade disasters. IFA focuses on providing aid to countries that have rejected offers of aid from other organizations, and often do not have diplomatic relations with Israel. The volunteers are all Israeli, Jews, Bedouin, other Arabs. IAF deploys within 48 hours.
Click for Podcast 11

Broadcast 11:
David Olesker, continues his discussion of the language of Advocacy.
Morry outlines the details of the 1929 massacres famously in Hebron/Chevron, but also in Jerusalem and even Tel Aviv. The defining event of Arab/Israel conflict. Orchestrated by the Al Husseini clan under the leader ship of the grand Mufti,Mohammad Amin al-al-Husseini [aka al-Husayni] this murderous riot was instigated by the speading of rumours of two Arabs having being killed by Jews and by alleged plans of the Jews to take over the Al Askba Mosque.
On the Legal Basis for Israel
At the San Remo Conference, April 25, 1920, England France Italy Japan (with the US as observer) carved up the pre-War Ottoman Empire into the three mandates of Iraq, Syria and Palestine. This agreement was assented to by 51 countries and by the League of Nations. The San Remo Resolution included the 1917 Balfour Declaration, designating Palestine as the Jewish homeland. See YouTube: CBN video.

The Data

Religions in Israel Excludes "seam region"
Jews
75.5%
exceeded 87% 1950-60
Muslims
16.8%
Arab Christians
2.1%
Druze
1.7%
Serve in Israeli Army (IDF)
Others
3.9%
Mostly those not affiliated
with any religion
Source: Statistical Abstract of Israel, 2009, CBS.
"Table 2.2 - Population, by religion"


Counting the Forgotten Refugees:
The populations of Jews in M.E.
circa 1948 and 2004
Country in the
Middle East
Number of Jews
in 1948
Number of Jews
in 2004
Algeria
140,000
Less than 100
Egypt
75,000
Less than 100
Iran
100,000
11,000
Iraq
150,000
Approx. 35
Lebanon
20,000
Less than 100
Libya
38,000
0
Morocco
265,000
5,500
Syria
30,000
Less than 100
Tunisia
105,000
1,500
Yemen
55,000
200
TOTAL
978,000
Less than 18,635
Web Source for population data is here

The Maabarot

Many of the 975,000 Jews expelled from Middle Eastern and North African countries who came to Israel were placed in tent cities called maabarot. Some families lived as long as twenty years in maabarot before moving to regular housing. Here are some scenes of maabarot life in Israel in the early years of the reformed state.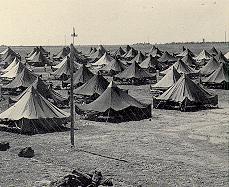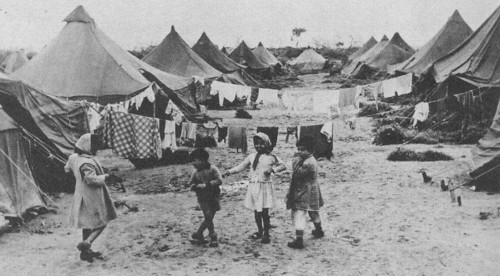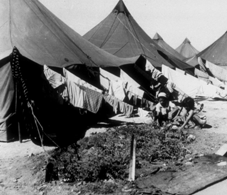 1950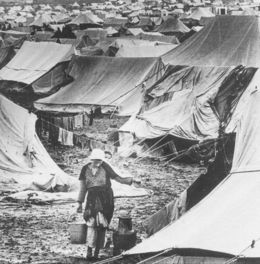 1952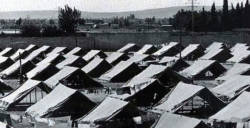 And for comparison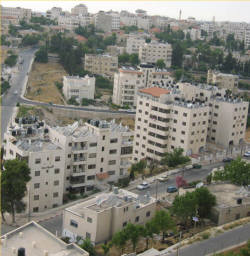 Ramallah a recent image.

Related
PODCASTS
www.ajhs.info/podcast
In the first podcast of the Australian Jewish Historical Society historian Philip Mendes discusses the Melbourne Jewish left-wingers who through 1945-1972 vigorously denied the Soviet policy of antisemitism, and compared them to contemporary Jewish pro-Palestinian advocates.