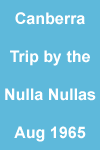 Trip 0
In early August 1965 a small group comprising the eldest members of the Nulla Nullas was brought to Canberra for a long weekend, billetted by members of the ACT Jewish community.
Trip 1
Outside the Kelly home at Wallaga Lake before setting out for Canberra. If you zoom you will see three Cactus Gardens sitting on the car boot. In 1965 this house, and other aboriginal houses in the village, did not have electricity.
Trip 2
Somebody\'s younger sister guards the cactus gardens in painted cans produced by the Nulla Nullas that were presented to children in the Canberra Hospital by Club members.