Where Next 1
Recognising that when key members would leave Canberra in 1966 ANUJSS could no longer run the Nulla Nullas, steps were taken to make easy the transfer to another organization in 1966, as is explained here.
Click Here to edit this entry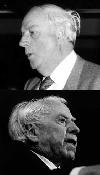 Where Next 2
Club leaders avoided press coverage of the Nulla Nullas, but sough assistance from civic and political leaders. Dr Harvey Cohen was invited to dinner in (old) parliament house in Sept-Oct 1965 by both Kim Beazley (senior) and WC Wentworth, both political champions of aboriginal issues
Click Here to edit this entry

Where Next 4
Those coming down from Canberra to run the Nulla Nullas became aware of more general community needs. In January 1966 an appeal was made in the local Canberra newspaper for sewing machines for the women of Wallaga Lake; about twenty were donated carried by ANUJSS to Wallaga Lake. with 4 taken to an Aboriginal Reserve near Yass. Over subsequent years these served as basis for craft, until ultimately replaced by overlockers.
Click Here to edit this entry