Aircraft from Australia in the Israel War of Independence
On 29 May 1948, two weeks after five Arab states had declared war and invaded Israel, a UN embargo on arms shipments to the Middle East was imposed. This was zealously applied by Britain to block arms shipments to Israel: however huge supplies went from Britain to Arab countries on the basis of obviously false claims that such supplies were fulfilling prior contracts. Thus Britain supplied Egypt the Spitfires used to bomb Tel Aviv, in addition to a multitude of other arms
Australia strictly enforced the embargo, and the huge amount of military equipment in the pacific could not be directly shipped (or flown) to Israel. Exploiting a loophole six aircraft were flown from Australia to Israel during the first crucial six years after its re-establishment in May 1948.



DC-5 Yankee Pasha - The Bagel Lancer
The DC-5 flown to Israel from Australia on May 26, 1948 had the markings of New Holland airlines, a precursor to Ansett Airways. and was painted with the Australian registration number VH-CXC (correct was VH-ARD).
This DC-5, one of only 12 DC-5 aircraft ever manufactured, flew as a US military aircraft in the Pacific War, before being acquired by Australian civilian operators. It had then continued in a support role to US operations in the South Pacific.
Once in Israel, the Australian registration numbers were painted over and replaced by Yankee Pasha - The Bagel Lancer below a Star of David.
Basically a commercial aircraft, and not a warplane, its first operational flight for Israel was on June 6, 1948. This plane was notably used during 1948-9 for ferrying troops and supplies into the Negev. However, on July 21, 1948, the unarmed DC-5, piloted by Californian volunteer Hal Auebach, flew alongside B-17 bombers, in an attack on Arab artillery positions along the Haifa-Tel Aviv road. In this critical operation, bombs carried in the cabin were thrown out through the rear door of the Bagel Lancer when the B-17s commenced bombing.

Click for more ..

The DC-5 with insignia VH-CXC on the tarmac of Essendon Airport, Melbourne,in 1944.
This plane left Australia on May 26, 1948, with a non-Jewish pilot, for Italy, from where it was flown to the just established state of Israel.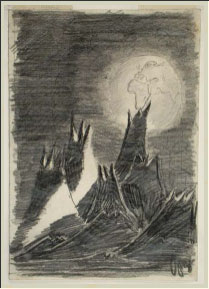 Lunar Landscape drawn by the 14 year old Jewish-Czeck boy Peter Ginz at the Terezin Concentration Camp.A copy of Peter Ginz's painting was carried by the Israeli astronaut Ilan Ramon on the fatal flight of the Columbia.

See link for more details.