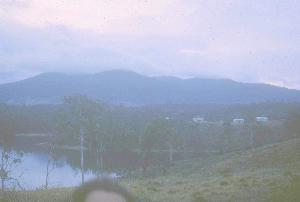 Beginnings 1
Distant View across Wallaga Lake of Wallaga Lake Aboriginal Reserve Village. Mt Dromedary (nowadays called Guluga Mountain) looms above. In 1965 the village comprised twenty houses without elecricity, the managers house with elecricity, Meeting hall, and ration shed. Prior to 1964 the meeting hall had been an aboriginal-only school, but by 1965 all children living on the reserve attended the local school at Bermagui. Few residents in the village were Juin as the Board relocated here families - largely single parent - from anywhere in NSW.
Click Here to edit this entry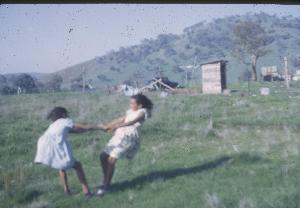 Beginnings 2
Two aboriginal girls at play at the site near Yass considered as closer (60km to Canberra) alternative to Wallaga Lake (242 km). At Yass no manager, no phones, and the homes were pathetic lean-to shanties. And this fringe settlement had recently been in the news on account of a murder.
Click Here to edit this entry

Conclusion
Click Here to edit this entry